COVID-19
---
Curling in the time of COVID-19
Special Rules due to SCC's COVID-19 Protocol
Draws will not be posted at the Club to prevent people congregating as per COVID-19 protocol. Check "Schedule" on the League's webpages.
Only one sweeper can sweep any rock at one time. The Sweepers or Skip must decide before the rock is thrown.
The sweeper may only sweep the thrown rock into the House. They cannot sweep any other rocks that are impacted or moved in the House.
Skips are NOT allowed to sweep any rocks - their own Team's or the Opponent's
Players may only touch their own rocks, which will have been sanitized prior to the Draw.
For hogged rocks, take-outs or when clearing the House, use your foot or broom to move rocks.
Keep 2 m distancing between all players on the ice. There are marks on the ice indicating where you should stand.
Masks are required when entering the Club and must be worn in the lower Lounge. On the ice, masks are not required if you maintain 2 m distancing. Curling Alberta recommends that masks are used during play but can and should be safely removed when needed (e.g., before and while sweeping, when drinking water, when regaining a comfortable rate of breathing, when replacing a wet mask, etc.).
There will be no coat racks and the locker room is closed. Chairs will be assigned by Team and ice sheet. Hang coats on the designated chairs and place outdoor footwear under your chair.
No loaner equipment will be available (e.g. Club brooms, stabilizers, push sticks)
Please follow all COVID-19 protocol instructions as posted or outlined by the League Rep.
All players, including spares, MUST have signed a Waiver prior to play. Only one Waiver per person is needed, regardless of how many Leagues you play in.
Information on Regulations and Guidelines
Curling Canada's recommendations for Player placement to maintain physical distancing during play.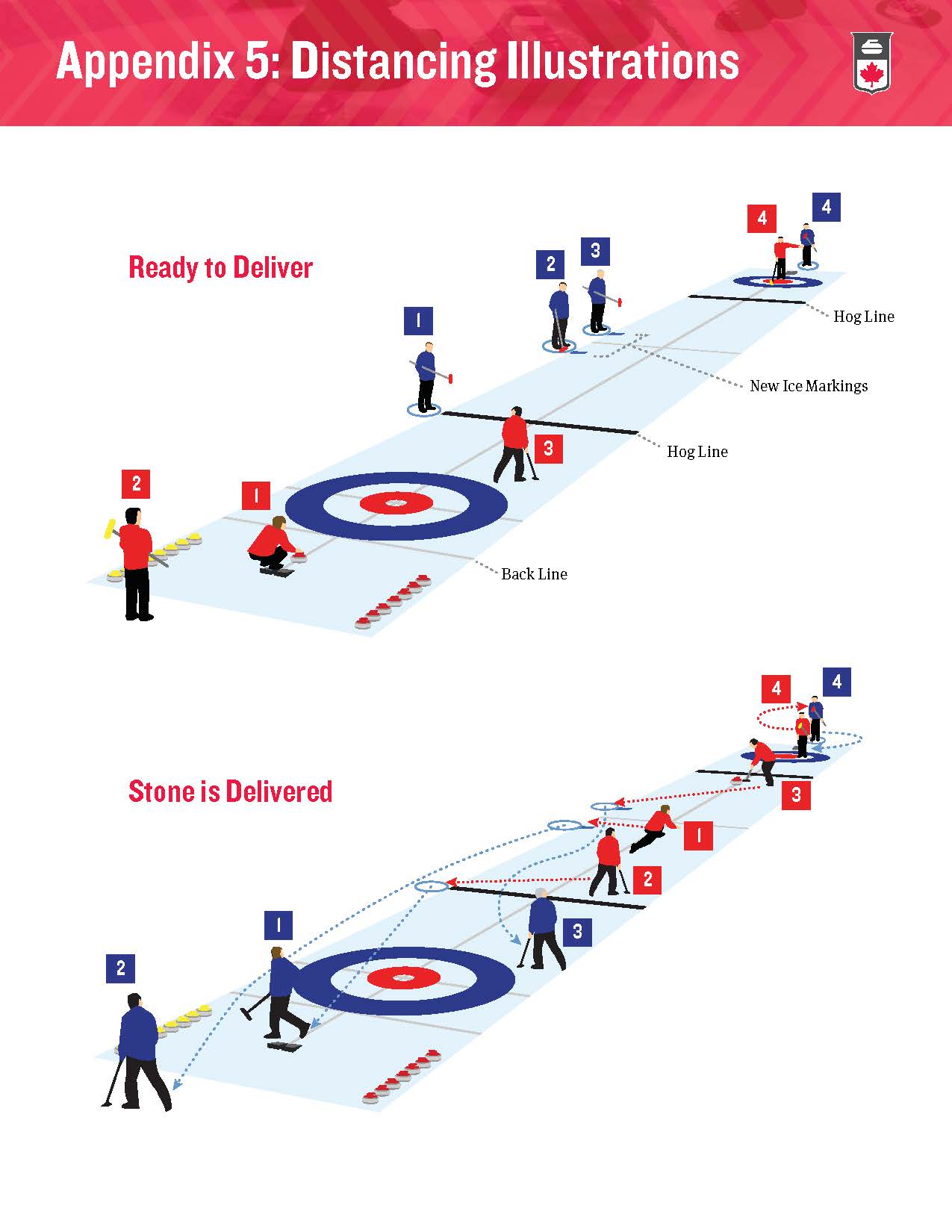 You can watch the video at https://www.youtube.com/watch?reload=9&time_continue=44&v=jCnP5Pn06FU&feature=emb_logo